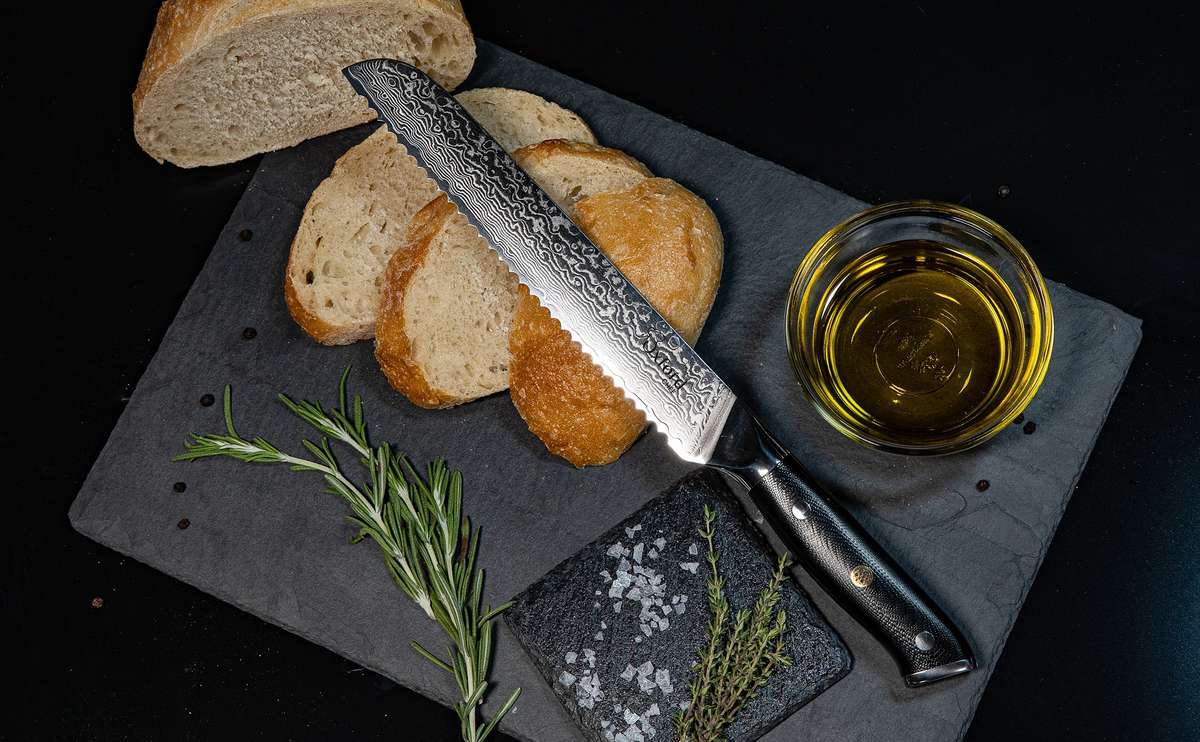 More Cutting, Less Crumbs & No Crushing.
First and foremost, this is a knife for cutting bread and that is what it is born to do!


We designed the blade of this knife to saw through crusty artisan rolls and baguettes like butter while being sharp enough to master delicate jobs like slicing challah, cakes, and tomatoes.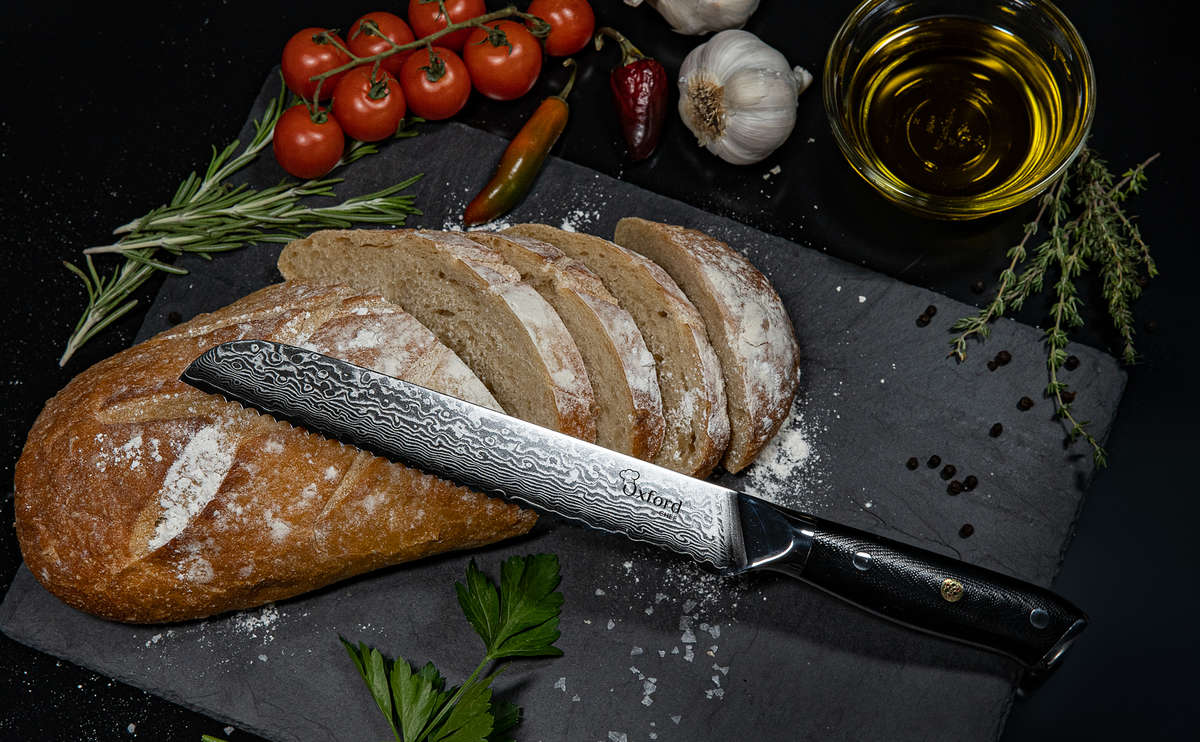 But that's just where it starts.
This knife will be your favorite for a number of widely varying tasks from shredding lettuce and cabbage to slicing large fruit and vegetables like pineapples, melons, and squash to carving up the Thanksgiving Turkey.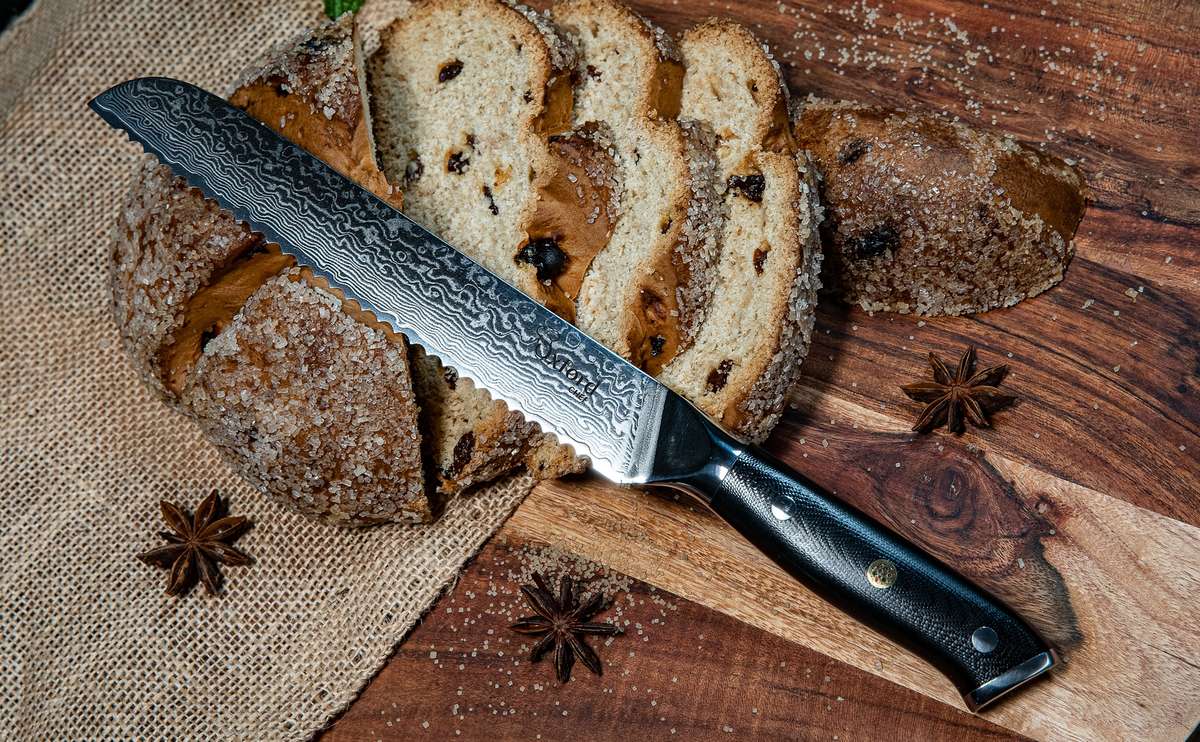 Made from the finest materials known to mankind, this masterpiece of the professional kitchen is forged with an authentic Japanese VG-10 "Super-Steel" cutting core to ensure flexibility and maximum edge retention without dulling or chipping. 66 layers of high carbon stainless Damascus steel cladding add beauty as well as resilience against both rusting and corrosion.
Beauty and Brawn: Forged from a solid slab of steel, this knife boasts a true full-tang for ultimate durability. Radically hardened with our revolutionary cryogenic nitrogen cooling process, this blade is solid with an incredible 62+ on the Rockwell hardness scale. Clad with 33 layers on each side by genuine Damascus steel, the gentle rolling wave patterns are unique to each blade and intrinsic to the steel- not merely stamped or etched on like many imitators.
Geometrically Perfect and Scary Sharp
The angles of this blade represent the pinnacle of design and the accumulation of millennia of Bread knife making evolution. Ideal serration space and edge degree mean smoother cutting, no crushing or tearing, and minimal crumbs. This blades deep teeth are specially designed to grab into bread crust to cut through with ease. 8 inches in length give just the right amount of length and teeth to do the job efficiently without adding too much weight and unwieldiness.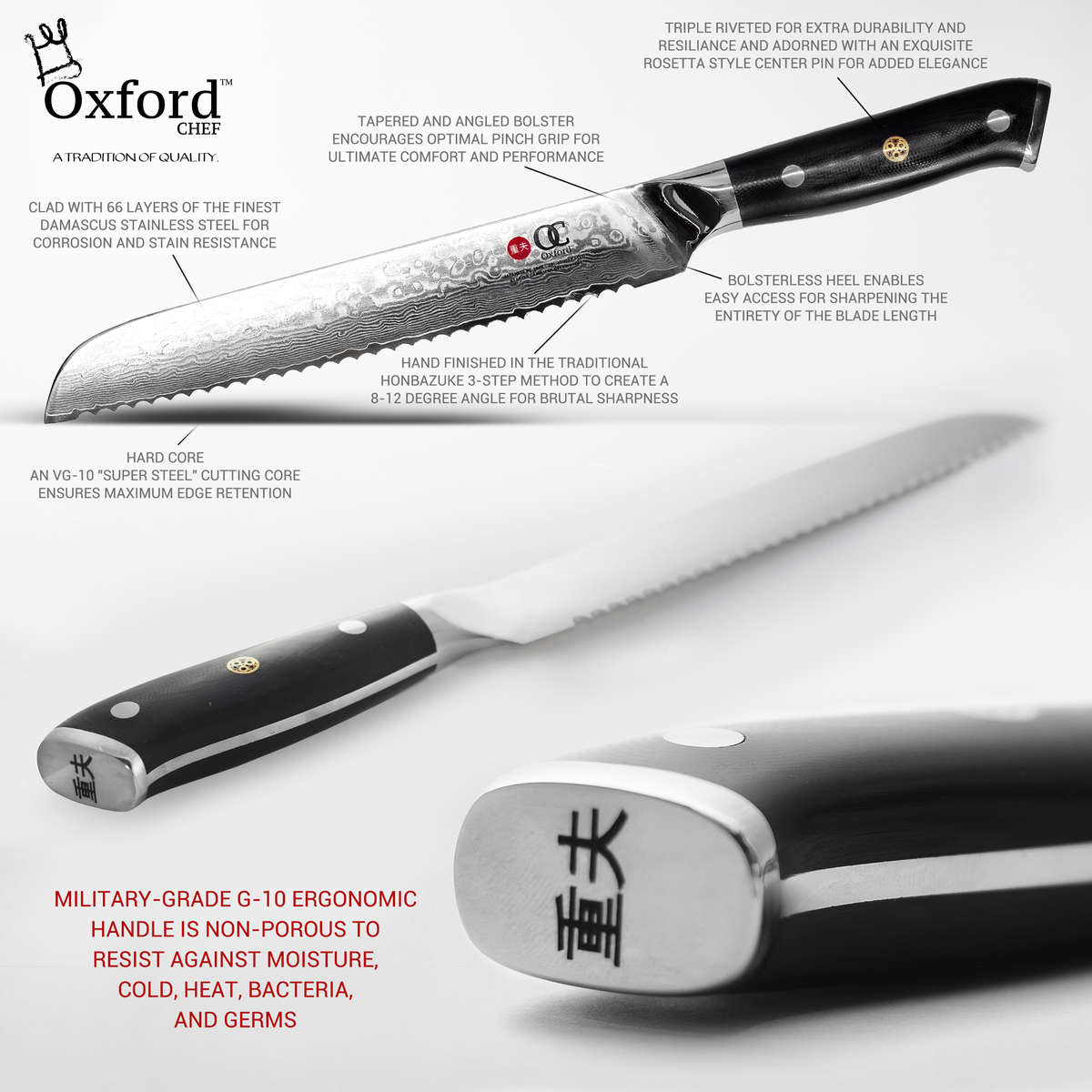 Performance, Comfort, & Beauty
Military grade ergonomic G-10 handle is immune to cold, heat, and moisture. Nonporous and germ/bacteria resistant. This bolster allows easy access to sharpen the entire blade down to the blade heel. Rounded handle and tapered pinch-grip bolster encourage natural handling with perfect balance. Rosetta rivet adds a cherry on top to this magnificent culinary tool.